Les Yeux sans Visage (Eyes Without a Face)
--Reviewed by Lindy Loo
Plotline:
The daughter of a surgeon has had her face completely mangled in a car-crash and is now so horribly disfigured that she must wear a mask. Her father begins to kidnap young women in the hopes of performing a successful face transplant. But face transplants are never that easy, as he soon comes to find out.
Scariness factor:
It ain't so much.
Gross-Out Factor:
There's a face-transplant surgery scene which (if I'm remembering correctly) I read was a really big deal at the time because it was considered horrifically graphic. It *is* pretty sweet and gross for being made in 1960, but it's nothing really compared to today's horror flicks, so even the squeamish should be ok.
Complaints:
It's a very very low-key movie without anything compelling the plot and energy of the movie forward, so it's not exactly something you want to invite your friends over to watch, otherwise you'll just end up bored. Other than that, I mostly just had the usual complaints about older horror flicks, which typically just has to do with the logistics of things: How can a person transplant a FACE? Assuming they can, then what's the deal with the lips and stuff? How 'bout the nose? Please, won't SOMEbody tell me?!? Oh, and the carnival music at the beginning: yeah, that was kind of a bit much after about 2 minutes of it.
High Points:
Given that it *was* made in 1960, it's pretty damn hip, complete with a suicide scene that is pretty shocking and the graphic surgery scene. Also, the daughter is weird and unsettling in her mask, shuffling around the house like a ghost all the time. And the ending was pretty bad-ass so I shan't give it away.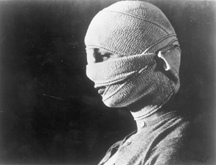 Overall
: It's kind of a sluggish movie that's not really gonna leave you white-knuckled and sitting on the edge of your seat. But it *is* pretty cool too if you have the patience.
Grade:
B-
Labels: B movies