Jaws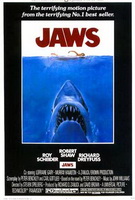 --Reviewed by Lindy Loo
Plotline:
A great-white is viciously attacking and killing people in the waters of Amity. The local chief of police gangs up with a marine biologist and a delightfully grizzled shark-hunter to end the rampage.
Scariness factor:
Holy crap so delicious.
Gross-Out Factor:
At the time, it was probably super-gruesome, but by today's Rob Zombie-standards, pretty mild. Still: it provides some delighful ewwwwwwwws.
Complaints:
None nada zilch.
High Points:
Jaws
might actually be my favorite movie of all time, so it seems kind of silly reviewing it as I'm pretty much gonna gush. But gush I shall.
Why I love
Jaws
:
It is a true blockbuster from a time when being a blockbuster actually meant something. It's huge and well-done but also meticulously well-written and nuanced in every way.


The acting: the trio of Roy Scheider, Robert Shaw, and Richard Dreyfuss makes this movie. They are all wonderful, Dreyfuss is funny as hell (and a total 1970's babe, growr), and I so want to have a daughter so I can name her Quint 'cause Shaw rocks that character OUT.


The characters are wonderfully developed and actually fleshed out. You will fall in love with all of them for different reasons.


The dialogue is fantastic. Which also lends to the well-developed characters. It's also wonderfully timed--there are many moments where a character squeaks in a one-liner under his breath or amidst the ramblings of other characters, and it will make you laugh out loud. And it's got that 70's realism thing working for it.


That first scene where the skinny-dipper goes down: Oh my god so scary!!!!


The score is (again) a blockbuster gem, tricking us into getting tense in moments that don't actually warrant it and going silent to trick us again into jumping when Jaws unexpectedly leaps out.


The timing. This is something I rarely think about when watching a film, but this film is TIGHT and has a MAGNIFICENT sense of timing. From comedic moments to scary moments, they are timed SO BEAUTIFULLY that it's hard not to want to hug Spielberg for being so damn anal retentive as to get it THAT right.


The special fx are old-school and awesome. Fuck CGI! I am all about a giant hinged shark interspersed with real-footage of an entirely different and tinier shark! Seriously: love it. Gruesome and delightful and PLEASE DEAR GOD let them never want to remake this because I seriously will BREAK PEOPLE'S KNEES.


I seriously could go on and on some more, but I will stop here.
Overall
: I've seen this movie so many times that I can't even keep track anymore. It seriously may be my favorite movie of all time, so if you've not seen it, DEAR GOD WHAT IS THE MATTER WITH YOU GO GO GO NOW AND WATCH IT I DON'T CARE IF YOU'RE SUPPOSED TO BE AT WORK DO IT.
Grade:
A+++
Labels: A+++ movies