The Fog (1980)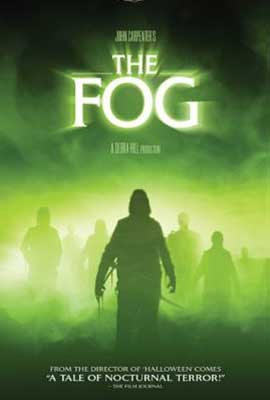 --Reviewed by Lindy Loo
Plotline:
A fog rolls into a small fishing town, but it's no normal fog: something lives within it, and it's killing people.
Scariness factor:
*fart*
Gross-Out Factor:
*fart*
Complaints:
I'm sure I'll get yelled at for saying this, but I have NO clue why this gets such rave reviews from folks. It was incredibly boring. And when I realized within the first fifteen minutes of the movie that
[kind of spoiler alert]
the spooky things within the fog were vengeful pirates, all I kept saying to myself and N-A the whole rest of the movie was: I cannot believe they expect me to be afraid of ghost pirates. =P
[/end spoiler alert]
This movie was SO slow, and nothing interesting or spooky ever happens.
High Points:
Boo.

(Oooh, glowy-eyed pirates,
so scary! *FART*)
Overall
: Again: I'm not sure why this movie is held in such favorable regard by horror fans. It is boring and unscary. I don't recommend. However, I will note that my friend Patrick gave it a much more favorable review when he reviewed this movie for this blog years ago, so go
check it out
if you want a second opinion.
Grade:
D
Labels: D movies