Oldboy (Oldeuboi)
--Reviewed by Lindy Loo
Plotline:
A man is kidnapped for reasons unknown and imprisoned in a hotel room for 15 years. When finally released, he makes it his mission to hunt down his kidnappers and find out the reason for his imprisonment.
Scariness factor:
I'm not even sure this is technically considered a horror flick, but I include it anyways. Nonetheless, it's not so much scary as it is intense and suspenseful.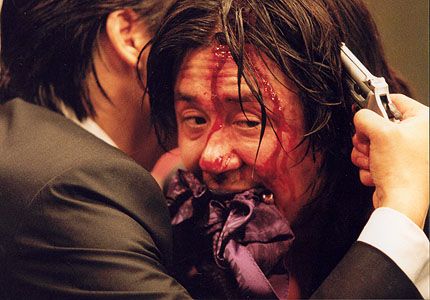 Gross-Out Factor:
Lots of teeth getting pulled out. A few other grotesqueries, but nothing TOO horrible.
Complaints:
I really like this movie, so I can't so much think of any.
High Points:
This movie is just really kind of awesome. The plotline will have you plunging forward with curiosity, and, just like Oh Dae-Su, you'll find yourself wanting to know what the fuck is going on. It's well-acted. It's got some really horrible and mischievous twists. And it's got style out the ass and is beautifully shot. And actually funny at times as well. Plus, the two male leads are HOT. I mean, purr:
Overall
: I'm not sure if this is technically horror. But since one of you recommended it as a horror film I should watch this season, I'm reviewing it anyways. I've seen it twice, and I really really dig it. So go check it out.
Grade:
A
(And yes, I missed
THIRST
in the theaters but am counting down the days 'til it comes out on dvd.)
Labels: A movies